Getting started with 'In-app Messages'

'In-app messages' feature allows you to target messages to the right user in the right time displaying a native In-app message which allows pre-defined various interactions.
Integrating with 'In-app messages' feature

In order to add the 'In-app messages' functionality to your project, please follow these steps:
Make sure you start a session calling the sessionStarted(userId) method with the currently logged in userId managed by your backend (Reference)

Optional - If your connected devices are being sold in online marketplaces (like Walmart, Amazon etc.) please follow Online Marketplaces support.

Optional - Copilot In-app messages solution can display messages without an additional authentication process. If you would like to add server authentication for sensitive message content, please refer to Authenticate with Copilot.
Online Marketplaces support
This section is relevant for iOS projects only
In order to add the ability to work with 3rd party installed Online Marketplace Applications some additional configuration changes are required:
In your Xcode project, open your application's Info.plist file.
Locate the LSApplicationQueriesSchemes in your Info.plist file. If this property does not exist, add a new Array property with that name.
Add new items to the LSApplicationQueriesSchemes with the following values:
walmart
com.amazon.mobile.shopping
Multiple Targets - In case your application contains multiple targets, please make sure this property and values are added to each of the Xcode project's targets.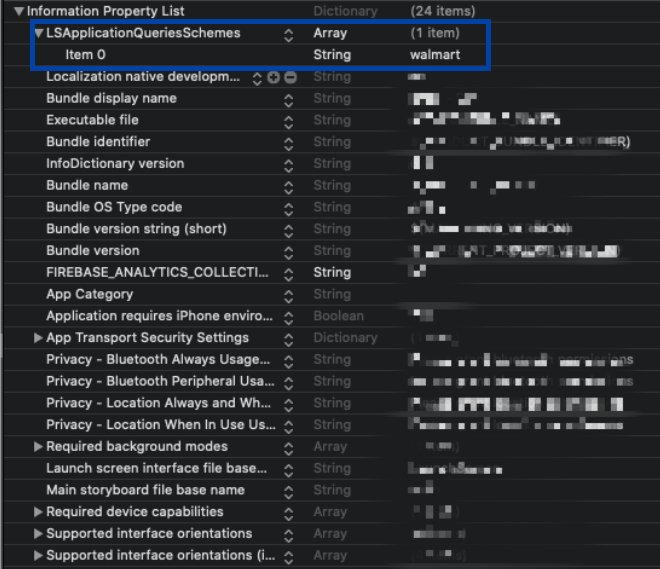 Disabling In-app messages

You can disable In-app messages by calling the disable command on your Copilot instance. In-app messages won't be shown until you enable the in-app messages feature by calling the enable command on your Copilot instance.
It is strongly recommended to control and minimize the duration the 'In-app messages' feature will be disabled in order allow showing the user the most relevant in-app messages at the right time when performing the specific action.
Copilot

.

instance

.

inAppMessages

.

disable

(

)




// or




Copilot

.

instance

.

inAppMessages

.

enable

(

)



Copilot

.

getInstance

(

)

.

InAppMessages

.

disable

(

)

;




// or




Copilot

.

getInstance

(

)

.

InAppMessages

.

enable

(

)

;